Tofaah's Drummer:
Meet Yona
Yona T. Yakobovitz is the founder of Tofaah, Israel's first all-woman Jewish band. She writes, arranges, and produces most of the band's contemporary Jewish music, spanning a wide variety of styles, from folk to rock, jazz to Latin.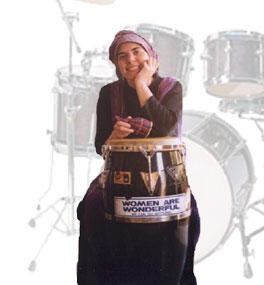 Learn how to play the drums with Yona!
A native of Saratoga Springs, NY, where she studied piano, drums, percussion, and performance with some of the world's leading musical artists, including Elvin Jones, Mel Lewis, and Max Roach, she made aliya in 1981.
Since then, she and her band, Tofaah, pioneered women-only performances in Israel and have devoted themselves to supporting Jewish women in the performing arts.
Tofaah's legendary massive Simchos Beis Hashoeva evenings for women have been drawing thousands of women from all over the country to Jerusalem to praise Hashem in achus with song and dance for almost forty years.
Yona also helped introduce music therapy in Israel and has trained hundreds of music therapists now working in Israeli programs and hospitals.  Her passion is to share the light of Torah through the healing powers of music.
Click here for music lesson or music therapy with Yona 
(drums, percussion, piano, band management, and music appreciation)
An interview with Yona
How did you come to start Tofaah? What is your mission as a Jewish band?
When Esther and I started Tofaah, it was because we discovered that both, female Jewish musicians and performers, and Jewish women audiences had such a need for the kind of events we wanted to provide. We wanted to give performing artists of high caliber an opportunity to channel their talents for a higher purpose and, in doing so, we could share with the audience sparks of Hashem's light to inspire people and shine a ray of hope.
Esther and I had been performing together for schools, hospitals and old age homes. We heard Gracie Rosenblum (the wife of Avraham Rosenblum, leader of the Diaspora Yeshiva Band) was raising money to help a woman who had been badly injured in a fire. She was organizing a talent show for a fund-raising evening. We wanted to help her.
We had a couple of friends who had occasionally joined us in playing for the hospitals and schools. I was a dorm counselor in my seminary and knew several talented women at the school. So Esther and I collected a few more people who wanted to participate. Instead of making one big band or choir, I arranged for them to be able to perform with me and a rotating roster of talented musicians as their backup band. This way, everyone had something unique to share and their chance to shine.
We played all different styles on all kinds of instruments. I didn't have drums in Israel yet, so Gracie let me use the Diaspora Yeshiva Band's drum set. For me, it was a privilege to play on Gedalia Goldstein's drums. (And he later played them at my wedding!)
We needed a name for our group and because there were so many different acts performing with me, Esther thought we should call ourselves "Yona and the Wailers."
It was standing room only that night. It was beautiful to see so many people coming out to help the cause, but also how the audience was being affected by the joy and the achdus that was being created in that room. That's when I saw also how badly frum performers needed this kind of outlet. I felt I really had to pursue this in a professional manner and make the band happen.
If we were going to do this, we had to change our name. That whole event had been such a "happening" - as we say in Israel - that my roommate and I looked through a dictionary to find the Hebrew word for "happening." It was tofa'ah. And since that word also contains within it the Hebrew word for drum, tof, I knew this was it. We were Tofaah.
Two months later, Gracie decided to organize another event. In that time, Esther and I had found the other core members of our band:
Joy Shapiro, who was in seminary with us, on flute;
Rachel Cohen lived across the street from our dorm and was taking some classes in the seminary as well. She played beautifully on the violin.
(Ann) Rahel's mother had seen the ad we had posted near the Rubin Music Academy and told her daughter to come audition for us. She showed up one evening at the seminary while I was working in this little office they had for me. It was tiny - hardly larger than the desk. There was barely room for her to take out her guitar. But when she played, my heart was so uplifted I knew she had to be in the band. It turned out she lived right around the corner from everyone else in the band, which of course is the key to any great band's logistical success: proximity! All any of us had to do to practice was walk down the block or around the corner.
We still had no bass player. Along came Elaine Wolman. She played upright contrabass. Elaine was a grandma already, so from the very beginning, Tofaah has been a multigenerational band.
The first official Tofa'ah concert was a great success. Rahel and I had written some songs together especially for that evening and everything went over really well.
I then had another meeting with Gracie about putting on more Tofaah performances and met her husband, Avraham Rosenblum. He was having a meeting with Mordechai Ben David. So I got to meet both of them. We talked about where Jewish music was going and where we wanted it to go, and how we could all help inspire Jewish neshamas. That meeting was pretty seminal, because I think all three of us, over time, have had a marked influence on where Jewish music is today.
After the show, Joy went back to the States, so we needed a new flautist. Rachel had a younger sister who just happened to play the flute. We were so excited to welcome Devora into the band because, besides being an amazingly talented flautist, as Rachel's sister, she helped consolidate our band as a family unit.
We also wanted to add more vocal harmonies and give another talented vocalist a chance to sing, so we auditioned many women and in walked Tehillah.
Through the early years, there were many comings and goings in our line up. Linda Levine replaced Elaine on the bass for a few years. Esther got married and moved to Australia - that doesn't stop her from singing on our albums and performing with us whenever she's in Israel, though. Lisa sang on our first album. When she moved away, Mindy joined.
We were looking for a guitarist because Rahel needed to take a sabbatical - she got married and was raising her young family - when Mindy came along. We had auditioned a few other people, but when we heard Mindy play, there was no question in our minds she was the right person for the band. It was also a big plus that she was a singer with many years of performing experience.
She was studying at Neve Yerushalayim and was very new to Yiddishkeit. Like Rahel, even though she was new to traditional Judaism, we felt that she had the right neshama and played her music for Hashem. I started writing music with her - she had never written music before - but she had a lot to give and to say. Together, we could direct it in a positive way. That was the beginning of our collaboration over the last twenty-five years. Mindy is the first to say that it was through Tofaah that she came to truly embrace Yiddishkeit and to direct her talents toward serving Hashem.
Nancy Segal (Ziskind) brought back "the Bubby" to the group when she joined us on keyboards and backup vocals. She had years of experience as a choir director. She's a real performer and brought a great light to the show. One of her daughters was a dancer, and we started including dance and Nancy's children's choirs in our events.
Eventually, we drafted Rahel back into Tofaah to play bass.
After a while, I decided I wanted Tofaah's live performances to sound more like we did on our albums, but since I couldn't play all my percussion instruments on stage at the same time by myself, I figured it was time to expand Tofaah's percussion side. That's when we recruited Susan Hendrickson and later her sister, Lois Weinstein. A bit later, Jessie Schechter joined our family. And then Susan's daughter, Samara, became part of Tofaah as well, as backup singer and percussionist. For the same reason, we recruited Tamar Attias. Her unique style and Devora's complement each other and our music so beautifully.
Rahel moved back to the States (but she still records and performs with us whenever possible), so Hashem brought us Karina Auday Krawiecz, a superb bassist from South America with whom I could finally let loose with my favorite style of music - funky, bluesy Latin Jazz.
Over the years, we've had many guest performers - musicians and singers. Some stayed longer than others. Sunita Staneslow on harp was with us for many years, as were Tasha Baloo, on clarinet, and Judy Amsel and Leah Orso on violin.
Tofaah specialize in giving an opportunity to newly-observant women who are coming from a professional performing situation, and are now finding it difficult on a professional level to perform and share their talent. We've had singers who had performed with Debbie Gibson and Gloria Estefan, for example. By having them perform with us, we give them an outlet to shine and show them a way that they can use their talents in the service of Hashem.
Would you say that's a Tofaah theme - music in the service of Hashem?
That's the goal of Tofaah, really.
We've built a sisterhood of Jewish musicians, but also with our audiences as Jewish women. The whole point of a Tofaah concert is that you'll leave feeling connected, to yourself, to the person who was next to you, to the stranger you just danced with, and, we hope, to Hakadosh Baruch Hu. The point is you are part of am Yisrael - and we are all connected to each other and one with Hashem.
Right from the beginning of Tofaah we went to a Rav - one of the Gedolim of our generation - for guidance every step of the way, from what pesukim we can use in our songs to whether we should accept certain gigs, for example when we're invited to appear on television. The Rav encouraged us so much - he always stresses how important our work is, that we can do something for women through our music that men cannot, and that we have an obligation to do this and be a Kiddush Hashem.
When we started, there were no events like this for women at all. Tofaah paved a road not only for musicians but for all women artists in the religious world. We invited dancers, artists, actresses, photographers, comedians and writers to participate in our events. Now, it is just accepted and normal - there are these women-only performances all the time and no one thinks twice about it. But it's only the norm now because of what we did.
Everything we do has to be connected to Torah and spirituality in some way. We've been blessed to bridge gaps between all kinds of peoples, because we perform for so many people. Tofaah has exposed the frum community to many great artists that live in its midst that people didn't even know about.
And music is such a powerful medium for kiruv. So often, we've had non-religious women strolling into Tofaah events who end up sitting next to religious women. I remember once having a group of black Jewish women from Dimona (they called themselves the "Black Dimonas" back then) sitting at our concert next to a very chashuveh Chassidic Rebbetzin - and the Rebbetzin was asking one of them how she braided her cornrow braids because she, the Rebbetzin, braided her daughter's hair but could never manage to make braids like that; and how did they do it? The next thing I knew they had joined hands and were all dancing together.
That kind of connection between mothers, that bridge between people who'd never normally meet, but who have come together because they are Jewish women - it is so inspirational to us to see that. It's the pasuk "vekareiv pezureinu" coming to life right before our eyes: People coming to us from all walks of life - yeshivish, Chabad, Vishnitz, Belz, Yerushalmi, "chilonim,", soldiers and feminist activists - all sitting together, praising Hashem and connecting with each other and with their neshama. When I see that, I expect to look out the window and see Mashiach already.
Tell us about a Tofaah concert that particularly touched you.
There have been so many! There was one Sukkos concert - it was yovel year, too - we were playing in the Old City of Jerusalem for Iyat, the women's division of Aish HaTorah, and there was so much of this kind of thing going on in our audience, I thought for sure Mashiach was going to show up any second. Every type of Jewish woman imaginable, from all over the world, was walking into the hall, drawn by the music, and dancing. People were lined up outside, trying to come in. We played for three hours straight and it was like the room was just lifting up and flying up to Shamayim - we all felt it.
So many of the women in Tofaah say it's a reciprocal experience - what the audience gives us back feeds us to keep us doing this.
In the band, we all have our separate lives. But when Tofaah comes together, no matter what might be going on in our lives, we form a unified front - we all bring whatever we have to offer, the gifts we have from Hashem, to give and share some simchah, some joy and positivity into the world.
We get there, we come together and we make it happen - isn't that what we should all be doing as am Yisrael - put aside our differences and look at what we do have in common, what we can give to each other and help support one another through this journey of life?
Our music is an expression of who we are now, of what's going on in the world these last 30 years - doing chessed, raising families, making aliyah, living through our many wars, walking through Mahane Yehuda, davening at the Kotel, living in a sealed room, the beauty of Eretz Yisrael - and the greatest light of this country, its people. So we're always tapping into our own experiences as girls, women, wives, daughters, sisters, mothers, from different countries and cultures.
We are all part of am Yisrael and our music is definitely Jewish music, but it is Jewish music in a Jewsih woman's voice.
We have extra strength because we have these Torah values. We all have this basic understanding in the band that we're doing this for God. It isn't about being on stage for our egos or to be heard. If that's what someone's about, they don't get in the band. This is a place to shine a light, to glorify Hashem's name and bring more kedusha and joy in the world.
That's what Tofaah is about.
One of things that makes Tofaah stand out in the world of Jewish music is how high Tofaah sets the bar for the band's musicianship. When did you start studying music?
I was born into music. Our home was always filled with it - my siblings all played numerous instruments, as did my aunts, uncles and many of my cousins. Music was a necessity in our family, like breathing; a part of our family tradition.

By the age of two of I was playing bongos along with my older brothers. They saw I had a good sense of rhythm, so when I was four years old, I had a small drum set and by age five my parents had bought me a piano. The funny story about this was that although I was extremely happy about the piano, I was also very disappointed because they had told me that they had got me something that had to be delivered, something very, very large.

I totally believed I was getting an elephant. (And I've been trying to play one ever since ... )
They did notice my disappointment and the following Chanukah my younger sister and I received a very large stuffed elephant as a gift. It sat between the piano and the drums and it was my first audience for many years. It had such big ears – it was a great audience.
We also had one of the earliest electronic organs around. It was very easy to play and lots of fun. We all taught ourselves how to play it. Later on, my sister had one of the first synthesizers of the time, so I got to experiment with this long before most people.
We also had all these old music books. I loved being able to play the melody along with the rhythm of all these old standards - Yiddish songs, Israeli songs and Jazz. That's when I learned these songs - they were just part of our home.
Besides percussion, drums, piano and keyboards, I also picked up harmonica, penny whistles, a bit of cello, a smattering of guitar and bass. I can play a little on most instruments, from trombone to shofar, but not all that well.
Since we were one of the few frum, religious families in town, we had a lot of different people coming through our house and staying over. They'd leave us little gifts, so I got lots of maracas, claves and other unusual gifts that got me interested in different sounds and percussion.
Music was all around me: the rhythm of a ball, of the jump rope ... I would make up songs as I was dribbling a basketball.
I started performing in school bands and orchestras and my younger sister and I had a duo. She played piano, I played drums and we performed at all the parties for the little kids in our shul and Talmud Torah.
I've always found music a very joyful and healing force in my life.
What Jewish musical influences touched you the most when you were growing up? Did these make their way into Tofaah's music?
My brothers were in yeshivah, and they loved the early music of Shlomo Carlebach. In fact, when I was just a baby, they invited him to come to Saratoga Springs for a concert and he did.

They were always singing and playing songs by The Rabbis' Sons - probably the biggest Jewish band of the 1960s, with Rabbi Baruch Chait, Rabbi Laibel Sharfman, Rabbi Yitzie Weinberg and Rabbi Michael Zheutlin, z"tl. My brothers also played music with some of the NCSY bands and knew many of the people who ended up playing in Neginah Orchestra and who grew up to become the founding fathers of Jewish music as we know it today.
I was also very taken by the music of the Diaspora Yeshiva Band. It was country, blues and rock and roll, but it was Jewish music! And they were very cool Rabbis. I loved the way they introduced their songs - they were so inspirational. I was so grateful to be able to see them live in New York before I made aliyah.
You've had a particularly rich and rather unusual musical education, haven't you?
Saratoga Springs was a cultural oasis. It's the summer home of the NYC Ballet and the Philadelphia Orchestra, and it hosted the Cool Jazz Festival and numerous rock, pop and folk concerts. My parents were influential in getting the performing arts center established in Saratoga, so they knew all these incredibly talented people.

They also tried to arrange for many of these artists who were coming to Saratoga to perform to also teach workshops for the kids in the local schools, so I got to study with really great people. For example, there was this amazing percussionist from the NYC Ballet's orchestra who taught me percussion and timpani and how to play for someone - to really perform, like for the ballet, not just to play what is written on the page.
He taught me how important it is to listen, because you count on the conductor, but you need to go with the flow. For example if a ballerina stumbles and the conductor is changing the tempo to accommodate that, you need to be aware of more than just the music.
Now, whether I'm playing for dancers or for a particular audience, I try to focus on that as well. I'm looking and watching them. Is the music moving them? Do we need to change things to let them breathe or rest, or is their energy flowing differently? I think I have more sensitivity to that energy, of how to play for someone, to make sure the music is touching them, because of that experience. Some music is motion, some is emotion - there're all kinds of ways to touch a soul.
I got to study with some great folk musicians, too. The famous Caffe Lena is in Saratoga Springs and my mom knew the legendary Lena herself. Because it attracted so many fine folk artists, I got to study with these musicians for whole summers at a time. I met one of the best piano teachers I ever had thanks to Caffe Lena - he had played with Bob Dylan and Joan Baez and others, and I was just 15 years old. He changed the way I thought about music - he had a friendlier approach to it and he inspired me to go deeper and write my own music. He showed me some really cool techniques on the piano, but most of all, he really believed in me. It was a very important experience for me.
Then when I was older, I got to study with Max Roach, Mel Lewis and Elvin Jones.
So I've been very blessed in the opportunities I've had. I can't help but feel that if Hashem sent me these extraordinary experiences, then I have a responsibility to use them in a way that helps bring others closer to Him, and through Tofaah to bring some chizuk, joy and light to Jewish women.